Dental Offices
We offer quality professional commercial cleaning services to Dental Offices in Independence, Missouri, and surrounding areas.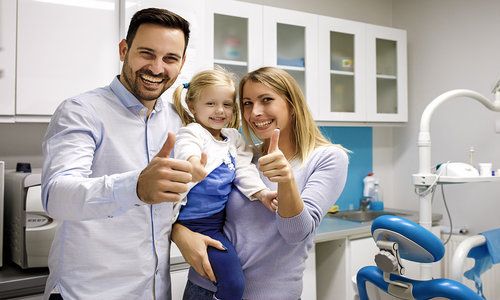 You need to hire an excellent commercial cleaning service to operate a successful dental office
First impressions with regular patients and new patients alike are vital to dental office success, and that is why the entrance area needs to be kept clean. Entrance areas include the foyer, entrance doors, waiting room, or lobby. These are the first areas your patients see, so all door glass, lobby furniture, etc., should be kept clean.
What To Expect From Klean-Rite with our Dental Office Janitorial Services
If your dental facility is unclean and unsanitary, you will struggle to attract and retain patients. For your employees' and visitors' health and safety, a dental office needs rigorous deep cleaning and disinfection at least once per week because dental offices can harbor dangerous pathogens.
It isn't always easy to find a qualified janitorial company for dental offices. Dental office cleaning is a niche service within a niche service. Cleaning a dental office falls under the same category of medical office cleaning; this limits you to finding a qualified janitorial service that can work within the niche and understands a dental facility's unique cleaning needs.
Klean-Rite understands how important it is to clean and disinfect dental offices in the proper way. We also understand the difficulties in finding a significant dental office janitorial service to address the detailed cleaning. To make finding a high-quality janitorial service more effortless, we developed our cleaning program customized to your specific dental office.
Let's take a closer look at what you can expect from the Klean-Rites dental office cleaning program. You should expect this from any cleaning company that cleans your dental office.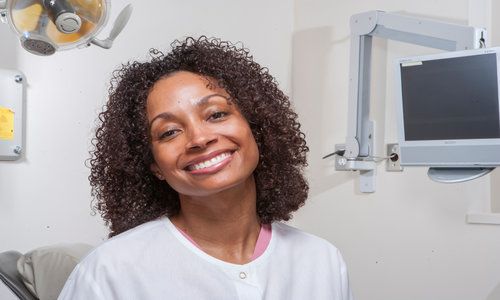 Dental Office Cleaning and Disinfecting
Commercial cleaning companies specializing in dental offices need to have a strong track record with medical office cleaning because dental offices have to abide by the same health and safety regulations as other healthcare facilities.
We train our cleaning technicians in rigorous cleaning and disinfecting protocols for dental facilities. Klean-Rite and its technicians adhere to the regulatory standards from the CDC, OSHA.
Klean-Rites Specialized Dental Office Cleaning Protocols
Klean-Rite offers specialized cleaning for healthcare facilities, including medical offices, dental offices, clinics, hospitals, etc.; this sets Klean,Rite apart from other cookie,cutter commercial janitorial companies.
Dental offices have unique cleaning protocols, patient areas, and equipment, requiring specialized cleaning methods. The infectious agents found in dental facilities will be different from those in other medical facilities. Various disinfectants are necessary for additional medical facilities; a disinfectant that works in a hospital may not work in a dental office.
Klean-Rite specializes in using different disinfectants necessary to keep each healthcare facility healthy for your employees and patients alike, whether it may be medical offices, dental offices, or hospitals.
Our technicians must take an in-depth program, which includes dental office cleaning with disinfecting protocols. Don't worry about receiving a one-size-fits-all dental office cleaning service with Klean-Rite. We will carefully tailor a cleaning plan that will fit the unique needs of your dental office.
A Cleaning Above All Others
Your cleaning service should leave your dental office feeling noticeable clean like your patients leave your office after teeth cleaning when they can feel how neat you've made their teeth. They then realize the trip to your dental office was worth their time and investment.
It would be best if you had the same feeling when you come to work the next day after your cleaning company has finished detailing your dental office, a clean you can feel. Klean-Rite ensures a sanitary feel and appearance by using medical-grade cleaning and disinfection of your dental office.
If your dental office cleaning provider claims to be the best, they should deliver a level of cleanliness that you can feel. Using microfiber cleaning cloths to clean the surfaces in your office, they should be left sparkling and spotless. Your restroom odors aren't masked but neutralized by eliminating the odor-causing bacteria. Your cleaning company should even clean the air in your dental office by using HEPA filtration vacuums. Your cleaning provider should ensure a greener and fresher clean by reducing the use of toxic cleaning agents.
Is your current cleaning service performing
background checks on their cleaning staff?
At Klean-Rite, we perform criminal background checks on every applicant
who is offered a position within our company.
We feel it is our mission to make sure that everyone who has access to our client's buildings is trustworthy and upstanding.
Our clients are significant to us, and by making sure that we have top-notch service providers, we give our clients service that outshines the competition.
You will have more peace of mind knowing your employees and property are safe and secure when your cleaning company uses appropriate hiring procedures.
Contact Klean-Rite today for a FREE no-obligation estimate!