Now Greener
By following eco-conscious cleaning practices, Klean-Rite works to make the world a cleaner and more environmentally greener place.
We offer our clients the option of green cleaning certification for cleaning services we provide. With our certified green cleaning services, the cleaning methods, products, and equipment are entirely eco-friendly.
Klean-Rite delivers green commercial janitorial services through an eco-friendly suite of cleaning products.
Our green cleaning products include eco-friendly detergents, glass-cleaners, and other cleaning products.
We only use biodegradable and EPA compliant odor removal products; our odor removal service is 100% eco-friendly and environmentally compliant.
Whether large and small, many commercial janitorial companies focus only on cleaning but not on the long-term effect such cleaning has on the environment or humans and pets' welfare.
Our clients' and partners' health is essential to Klean-Rite; we do not use chlorine products, ammonia, or other harsh chemicals. We design each cleaning to accommodate the unique needs of each client.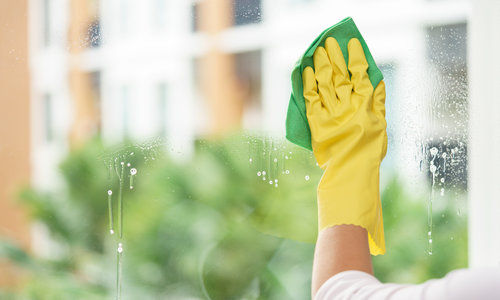 Advantages to Green Cleaning:
Klean-Rite believes and supports the world-wide effort to becoming more environmentally safe and friendly
We use environmentally preferred cleaning products, including cleaning products tested and certified by the EPA and GreenSeal.org, the leading independent agency for green cleaning accredited products.
Green Cleaning Practices can:
Reduced harmful chemical toxins exposure
Indoor air quality improved
Chemical sensitivity and dust particles allergic reactions reduced
Cleaning effectiveness improved
Reduced build-up from detergents left on surfaces
Improved protection of our environment
Green cleaning also includes such practices as:
Proper recycling programs that ensure your recyclables are collected and placed in the appropriate recycling bins;
Cleaning systematically to reduce the use of electricity at night, which aids in reducing our customer's carbon footprint and utility bills;
Use of HEPA Filtered vacuums which reduce dust particulates in the air to help maintain a dust-free facility and reduced allergens;
Using cleaning materials that we have laundered by a professional laundry company to reduce that amount going to landfills and reduce the amount of water for laundry;
We even plan out the logistical deployment of cleaners in a way that increases fuel efficiency and decreases gas consumption each night.
Awareness and ingenuity will develop more considerable and more effective, environmentally preferred products and practices.
With Klean-Rite as your green commercial janitorial service provider, we make it easy to stay green without sacrificing your facilities' hygiene and cleanliness. We create a custom service plan tailoring green cleaning services to your business. If you don't need full green cleaning, we are committed to using eco-conscious practices, which ensures a greener commercial janitorial cleaning for your facility.
The green movement is here!
Is your contract cleaning company doing its part in keeping your facility environmentally healthy?
A healthy facility means better conditions for your employees, and visitors,
therefore higher employee productivity and less absenteeism.
Klean-Rite uses environmentally safe cleaning products and equipment when cleaning your business.
Your facility will have better indoor air quality with no harmful residue left from cleaning products.
Partner with the experts in green cleaning technology.
Receive a free green cleaning consultation today and discover why companies choose Klean-Rite for their green commercial cleaning needs.