Nursing Homes and Assisted Living
Commercial Janitorial Services
Discover The Difference with Klean-Rite
We Are "On-Call" For Doctors, Dentists, and other Medical Professionals
Curious How Klean-Rite Can Help You?
Give us a call 816-796-6696 so we can discuss your cleaning problems
Nursing Homes Commercial Janitorial Services
We Have Your Long-Term Care Cleaning System.
Since they provide long-term care, nursing homes require a unique disinfecting and cleaning process.
Klean-Rite delivers a clean, safe, and healthy environment for your patients and staff with our commercial janitorial program, especially for nursing homes and assisted living communities.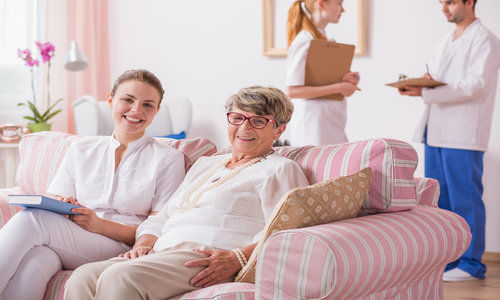 Our Nursing Home Cleaning Program
With nursing homes, every detail is crucial.
Everything from resident rooms to shared areas, such as lobbies and kitchens, needs cleaning and disinfecting, making your patients feel happy and comfortable. Detailed cleaning and disinfecting also reduces the spread of infection at your nursing home or assisted living facility.
We've developed a cleaning program that can help nursing homes with:
Overall patient satisfaction
Increased performance metrics
Risk reduction
Infection prevention and control
Patient environment improvement
Improvement inpatient environment
As published by the industry-leading organizations,, we used the best procedures and practices to develop our nursing home cleaning program. Your patients and staff members deserve a clean and safe environment.
Families consider nursing homes and assisted living facilities based on the hygiene maintained in residents' rooms, the common visiting spaces, dining areas, and kitchens.
Stating it simply, missing the mark in those areas can cost your nursing home or assisted living facility business.
Janitorial Service Policies
We aligned with the following organizations when developing our commercial janitorial service program policies:
AHE (Association for Healthcare Environment)
CMS (Centers for Medicare & Medicaid Services)
CDC (Centers for Disease Control and Preventions)
AORN (Association of periOperative Registered Nurses)
EPA (Environmental Protection Agency)
HIPAA (Health Insurance Portability and Accountability Act)
OSHA (Occupational Safety and Health Administration)
Klean-Rites' Customized Commercial Cleaning for Nursing Homes
As with other facilities, nursing homes and assisted living communities have their own unique cleaning needs. That's why we developed a cleaning program that is easy to customize to address your private facilities' concerns and cleaning needs.
Our cleaning program will help with the following areas of your nursing home facility:
Entrances
Common areas
Resident rooms
Restrooms
Kitchens and dining areas
All of us at Klean-Rite are determined to give the very best service to nursing homes and assisted living communities, continually refining our cleaning methods to serve you and your staff better. We accomplish this by giving your patients a clean and comfortable environment and providing top-quality commercial cleaning services; we base our ethical business practices.
Commercial Cleaning Does Not Cost, But It Sure Pays
If you're tired of receiving the same old sub-standard commercial cleaning service, it's time to switch to a cleaning company that cares.
Professional cleaners, the strictest guarantees, and transparent, personal service are all part of the Klean-Rite difference.
Contact Klean-Rite today for a FREE no-obligation estimate!

Klean-Rites "Dirt Free" Eagle Janitorial Service Guarantee For

Nursing Homes
When we send our cleaning technicians to your location, not only do they represent our business, they also represent our companies reputation, values, and our future.
As the owner of Klean-Rite, I take personal responsibility for all cleaning services and ensure that every client is satisfied with the cleaning results.
We provide our commercial janitorial services in a superior and timely manner using the most innovative products and technology, resulting in the most cost-effective commercial janitorial services for our clients.
If you are not 100% satisfied with any cleaning service performed in your facility, contact us, we'll pop in and make it right.
Our clients keep coming back because we guarantee consistent quality and transparent communication.