Religious Facilities
Commercial Janitorial Services
Discover The Difference with Klean-Rite
Cleaning Solutions for a Healthy Environment
Curious How Klean-Rite Can Help You?
Give us a call 816-796-6696 so we can discuss your cleaning problems
Religious Facilities Janitorial Services
A place of worship is where people come together as a community to pray and serve God. We know how important your church is to your congregation; this is why Klean-Rite has created a dedicated program designed specifically for sacred areas. With Klean-Rites religious facility commercial janitorial services, your place of worship will be a bright and shining light for your neighborhood.
When you hire Klean-Rite to clean your place of worship, you must have faith in our cleaning technicians' experience and expertise.
We train and test each cleaning technician under Klean-Rites four-week training program, two weeks of classroom training with two weeks of supervised in-field training. Our training program includes detailed protocols and cleaning standards for a range of proven cleaning processes; this ensures your place of worship receives a professional cleaning.
We are here to accommodate your needs and concerns. Our custom cleaning plan will address any specific cleaning concerns you might have. Any faith-related or cleaning concerns, we will do our best to accommodate any requests.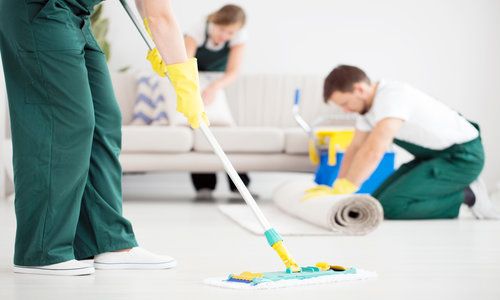 We Work Greener and Safer
Klean-Rite believes that commercial janitorial services should be safe for all their clients concerning the natural world. Our cleaning technicians use eco-friendly products and cleaning practices to reduce our environmental footprint. We also create a more reliable and healthier space by using safe and non-toxic cleaning products whenever possible.
With our HEPA vacuums, we clean the air you breathe by capturing airborne dust and irritants, which is an improvement to your health and the health of your congregation.
Our cleaning technicians use an eco-friendly and non-toxic disinfectant to wipe out 99 percent of all germs. Klean-Rite offers day-to-day commercial cleaning and specialty cleaning services. It doesn't matter the types or mix of flooring in your place of worship; we can take the steps needed to give you clean floors.
You will know who is in your place of worship cleaning. Our cleaning technicians are easy to recognize by wearing uniforms and ID tags while cleaning your facility. We protect your safety and security.
Our unbeatable service guarantee backs our religious facility cleaning services. We will correct any issue with your cleaning within one business day if you are not satisfied after one of our cleanings.
Has your current cleaning company suggested ways to save you money recently?
Everyone is all for cutting expenses, but we go one step further.
We believe that maintaining the highest standard of care for your church is not only essential, but it is our duty.
And so is passing on tips for saving money for our clients.
Klean-Rite will suggest cleaning procedures, products, and schedules that will save you money in the form of a longer life for the surfaces in your religious facility.
How Can We Help With The Challenges You Might Be Facing Now?
Contact Klean-Rite today for a FREE no-obligation estimate!

Klean-Rites "Dirt Free" Eagle Janitorial Service Guarantee For

Religious Facilities
When we send our cleaning technicians to your location, not only do they represent our business, they also represent our companies reputation, values, and our future.
As the owner of Klean-Rite, I take personal responsibility for all cleaning services and ensure that every client is satisfied with the cleaning results.
We provide our commercial janitorial services in a superior and timely manner using the most innovative products and technology, resulting in the most cost-effective commercial janitorial services for our clients.
If you are not 100% satisfied with any cleaning service performed in your facility, contact us, we'll pop in and make it right.
Our clients keep coming back because we guarantee consistent quality and transparent communication.