Restaurants
You probably realize how easily cleaning practices can make or break a business if you work in the foodservice industry.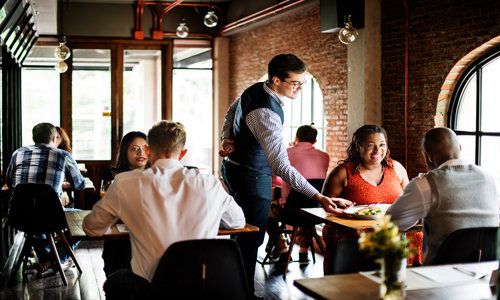 Our cleaning technicians are more than just professional cleaners; they are also partners in the success of your business by providing everything you need to keep your employees and customers healthy, safe, and spotlessly clean.
Our employees are experts in restaurant cleaning thanks to our extensive training program.
A four-week training program, required for all new hires, includes, among many other areas, specialized training in cleaning restaurant-specific spaces, food storage areas, dining rooms, and food prep areas.
Klean-Rite will help you serve up a five-star experience for your restaurant. Our technicians will always make sure you receive a detailed oriented clean.
We will ensure that every crumb, handprint, and stray napkin is quickly taken care of, leaving you free to create a five-star experience for your restaurant visitors.
Your Klean-Rite technicians are well versed in all federal, state, and municipal health and safety regulations. They will work with you to make sure you comply with OSHA safety standards and make health inspections a breeze.
We Create a Comfortable Atmosphere for your Restaurant
Klean-Rites commercial cleaning services will create a comfortable atmosphere for your restaurant guests.
Because we don't clean the surfaces in your restaurant, we clean the air you breathe with our HEPA vacuums, which traps dust and fine particles, creating a fresher atmosphere for your restaurant guests and staff.
Our technicians will safely disinfect and neutralize odors using a safe and eco-friendly disinfectant to wipe out all bacteria on contact and used on almost any surface area.
Klean-Rites restaurant janitorial services include a detailed wall-to-wall approach to restroom cleaning, leaving your restrooms clean as can be. In areas where bacteria pose a high risk, our cleaning technicians pay special attention to those areas; this includes faucet handles, push plates, towel dispensers, and flush handles.
Our micro-fiber color code system for cleaning avoids cross-contamination by using color-coded towels and wet mops. Towels and wet mops used in restrooms are never used anywhere else in your restaurant.
When I say "value" in terms of your cleaning service, what comes to mind?
Are you thinking about the value you are getting for the price you are paying for your cleaning?
Although price is important, great value is priceless.
Value might be measured in communication, response time, simplicity or dealing with a one stop vendor for all of your cleaning and supply needs.
Let us know what other concerns you may have!
Contact Klean-Rite today for a FREE no-obligation estimate!