Veterinarian Offices

Commercial Janitorial Cleaning Services
Clean Starts Here
Veterinarian Offices
Our comprehensive janitorial services program addresses the three most important aspects of a thorough veterinarian office cleaning --
odor control, infection control, and general housekeeping -- to make your veterinarian clinic cleaner and healthier for your animals, staff, and visitors.
With plenty of unexpected messes at your veterinarian clinic with your pet patients shedding, sick pets who aren't feeling their best - leaves you and your staff with a lot to manage.
Klean-rite understands that no other medical-grade facility is quite like your veterinarian office. We are here for you and understand your clinic's specific needs for commercial cleaning services.
Suppose your veterinary clinic is a specialized clinic, an emergency care center, general practice, or part of a nonprofit. In that case, we realize that you take every precaution to make sure your pet patients and their human owners are safe and healthy. Please don't gamble with a commercial janitorial company that does not hold itself to the same standards.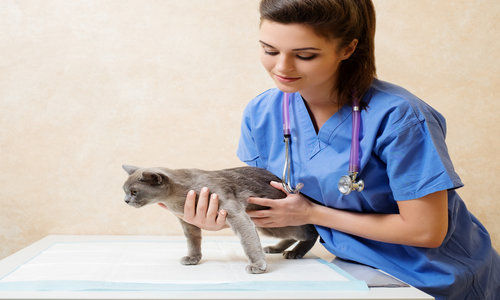 We Value Your Health and Safety
Leave the cleaning of your veterinarian office to the after-hours janitorial cleaning crew you hire from Klean-Rite.
The cleaning technicians who will be maintaining your veterinarian clinic are all specially trained and certified in our Healthcare Training Program, which focuses on the particular depth of cleans required by medical-grade facilities like your own.
Klean-Rite is always concerned about the health of our clients, their customers, and employees.
Health and safety have always been a priority to us: this is no different when caring for your veterinarian clinic.
To help prevent the spread of infection in your veterinarian clinic, Klean-Rite has disinfectants that are tough on pathogens like Bordetella, parvovirus, and influenza but are also compatible with the equipment and surfaces.
All surfaces need cleaning at the end of each workday.
Klean-Rite can put your veterinarian office cleaning on autopilot
We realize that as an office manager, you are too busy managing everything else than having to deal with complaints when the toilet paper runs out or leaky faucet taps.
But when your cleaning crew misses a step you're the one who hears, "the cleaners missed my trash last night."
You just want a clean veterinarian office without having to micro-manage. We get it, and that is why we created a better cleaning plan,
which will save you money, time, and a whole lot of hand-holding.
Contact Klean-Rite today for a FREE no-obligation estimate!